8 May 2021 marked the opening of THE PLASTIC MUSEUM: a museum that not only showcased plastic items but which was also made out of the material itself, with the intention of being completely recycled upon its closure on 17 May 2021, which was World Recycling Day.
PLASTIGAUR, as a founding member of the museum, offers a virtual tour for everyone who was unable to visit the museum in person or those who would like to take another look around it from the comfort of their own home, allowing them to discover everything on display in the museum.
Click on this link to begin the tour of THE PLASTIC MUSEUM: https://tours3d.mattrix.es/show/?m=CMwfFk5v9oB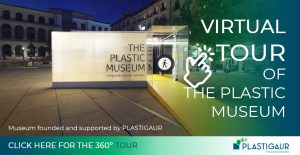 THE PLASTIC MUSEUM is a project that seeks to highlight the crucial role of plastics in our journey towards a more sustainable society. The museum encourages us to reflect on plastics: those materials that offer and have offered so much to society in terms of health, technology and social and environmental matters and which can be properly recycled if we all work together, helping us to fight and overcome the problem of marine debris
The museum was founded by the EsPlásticos platform and was supported and promoted by Plastigaur. The museum stood the Plaza de Juan Goytisolo in Madrid, opposite the iconic Reina Sofía museum. From the moment of its inauguration, visitors were able to enjoy a unique experience in the three rooms dedicated to the sustainability, circularity and innovation of plastics, with showcases depicting some of the main uses of these materials.