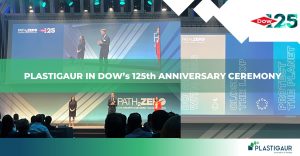 LUIS ARTOLA (CEO) and XABIER NOGUERA (Commercial and Marketing Director of Plastigaur) attended DOW's 125th anniversary ceremony.
At the event, entitled PATH2ZERO, we learnt about the company's innovative and sustainable history and the sustainable packaging projects helping to achieve a net zero impact on the environment.
One example of this is the REVOLOOP secondary packaging, which was extruded by Plastigaur. It contains 50% recycled material (PCR) and 100% recyclable PE and it is extremely thin to help reduce CO2.
PLASTIGAUR, Innovation is flexible