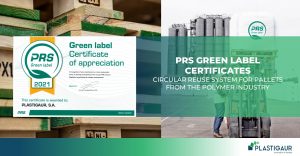 Plastigaur is a partner of the PRS Pooling circular pallet reuse system, which maximises the reuse of recyclable pallets as often as possible.
As a sign of our commitment to the initiative, we have been awarded the PRS Green Label 2021, with which we are part of the network of environmentally responsible producers, processors, transporters, warehouses, marketers and distributors.
With this system, Plastigaur, as well as each member of the chain, reduces its carbon footprint and packaging waste, achieving a more positive impact on our environment and taking a further step in the circular economy process.
Find out more about the PRS project and its environmental benefits here: www.prs-pooling.com/
In our aim to be a benchmark in sustainability and quality, we conduct demanding certifications by third parties in all our developments, as a seal of guarantee and proof of the excellence present throughout the organisation. You can see all our certifications and seals here: https://www.plastigaur.com/innovacion-y-tecnologia/#certificaciones
PLASTIGAUR, Innovation is flexible