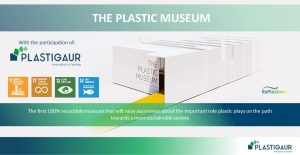 Today marks the official presentation of the world's first museum created entirely out of plastic.
The museum will be physically located in Madrid, in the Plaza de Juan Goytisolo, in front of the Reina Sofia and its inauguration will take place next Saturday, 8 May. The museum will offer guests a unique experience through its three rooms focused on plastic sustainability and innovation and the plastic circular economy that feature a sample of the main uses of these materials.
This museum is designed to encourage people to think about plastic, that material that has contributed so much to society in terms of health, technological, social and environmental benefits, and which can be recycled with everyone's help, thus tackling and solving the problem of marine debris. The museum not only features this material but is built entirely out of plastic as well.
Since it is made of plastic, the museum will be 100% recycled when it closes its doors on 17 May, Global Recycling Day.
Plastigaur, as a member of the ESPLASTICOS platform, has actively participated in creating the museum, which we believe represents a major step towards raising awareness of the important role plastic plays on the path towards a more sustainable society.
Visit the official museum website for more details and information about the inauguration: www.theplasticmuseum.com
PLASTIGAUR, Innovation is flexible.