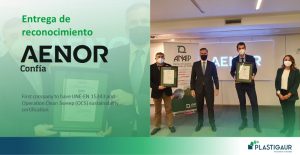 AENOR, a leader in assessment and certification with operations in over 90 countries, has recognised PLASTIGAUR as the first company to obtain UNE-EN 15343 and Operation Clean Sweep (OCS) certifications in the field of sustainability.
AENOR CEO Rafael García presented the award to PLASTIGAUR's management team at a ceremony held at the company's headquarters in Madrid. The Spanish Association of Plastic Converters (ANAIP) also participated in the event.
The award is yet another example of Gipuzkoa-based PLASTIGAUR's sustainability-centred strategic approach and evidence of its interest in independent third-party certification to accredit the company's commitment to excellence.
PLASTIGAUR's sustainability-based initiatives include the development of the complete range of EKOGAUR sustainable flexible film and packaging and a commitment to use 100% renewable energy throughout the production process.
Visit PLASTIGAUR's new website for all the details on the company's other certifications:  https://www.plastigaur.com/innovacion-y-tecnologia/#certificaciones