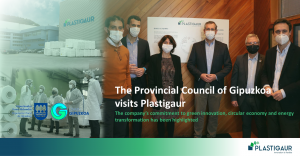 On the morning of Friday 22nd of January, Plastigaur was visited by Markel Olano, the President of the Provincial Council of Gipuzkoa, along with the provincial councillors for Economic Development and the Environment, Jabier Larrañaga and José Ignacio Asensio.
During their tour of the plant, as well as finding out about Plastigaur's history and its core strategy of sustainability, the representatives from the Provincial Council were able to see first-hand the facilities and the latest technological investments made.  These include the recent installation of the MDO machine, which is capable of producing a range of OPE films that are designed to create 100% recyclable PE-based mono-material packaging.
As remarked by the President, Plastigaur's commitment to green innovation, the circular economy and energy transformation is "blazing the trail" for the start of the region's "green recovery". He also highlighted the 10 million-plus euros of investment over the last 3 years in machinery to product sustainable solutions and the shift towards using 100% renewable energy in all of its operations.
In turn, Luis Artola, Managing Director of Plastigaur, defended the plastics industry, saying that it was "part of the solution in the fight to provide the market with sustainable packaging and packing solutions". For this reason, one of the company's core objectives is sustainability, resulting in the circular economy and ecodesign featuring in all aspects of the business.
Plastigaur, innovation is flexible