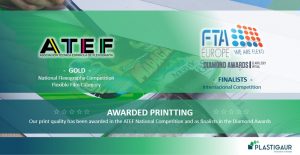 Plastigaur's print quality has recently been recognized in two main competitions in the Flexible Film categories. 
During the VIII National Flexography Contest, of the ATEF (Spanish Technical Group of Flexography) Plastigaur has been awarded with the GOLD mention in the Flexible Film category of "Packaging (From 60 to 110 Cm)". 
On the other hand, we have been selected from a total of 180 candidates, as FINALISTS in the FTA Europe Diamond Awards 2021, which final will be held on April 22nd. 
These recognitions are further proof of the effort made to offer our customers the best quality that requires their flexible film packaging. 
Learn more about the FTA Europe Diamond Awards 2021 here:  
https://www.fta-europe.eu/fta-europe-awards/fta-europe-diamond-awards-2021/  
Flexogafic solution 
PLASTIGAUR, Innovation is flexible.