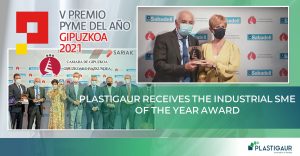 Today it was revealed that PLASTIGAUR has been given the award for Gipuzkoa's SME of the Year by the Chamber of Commerce.
We would like to thank the Gipuzkoa Chamber of Commerce for this award, on behalf of everyone who is part of Plastigaur. Everyone in the team is extremely proud and excited to belong to a company that works hard to make flexible plastic film and packaging a key element of sustainable consumption, in the present and future.
With this award, the Chamber of Commerce's seeks to acknowledge the performance of small and medium-sized enterprises, whose activities are vital to creating jobs and generating wealth.
Representing the entire team, the award ceremony was attended by Antxon Garmendia, the founder of Plastigaur, Xabier Noguera, our Sales and Marketing Director and Asier Flores, our Technical Director.