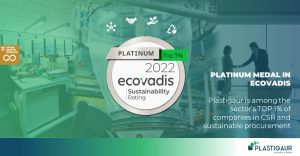 Plastigaur has been awarded the EcoVadis Platinum medal, the international certification system's highest category for Corporate Social Responsibility and sustainable procurement. The Platinum medal was awarded after we reached the 99th percentile, i.e. we entered the TOP 1% best-performing companies in the sector worldwide.
EcoVadis allocates a score of between 0 and 100 for the quality of each entity's CSR management system, in relation to the environment, labour practices, fair business practices and sustainable procurement. EcoVadis is also the world's most trusted provider of corporate sustainability ratings.
After being awarded the gold medal for 3 consecutive years and scoring above 70 points, Plastigaur's efforts in Corporate Social Responsibility and sustainability have been recognised with the PLATINUM medal, taking us one step further and placing us among the top 1% best-performing companies in the sector.
In a challenging environment for the flexible plastic film packaging sector, this certification has spurred us on to continue with our strategic commitment to improving the company's environmental and social practices, to forging close ties with suppliers and to offering the best service to our customers, thus allowing us to have a positive impact on global supply chains.
PLASTIGAUR has participated in ECOVADIS since 2013, aligning our goals with those of this platform and serving to illustrate the path we are following in CSR.
This award joins other certifications and accreditations for ecodesign, the circular economy, the environment, quality and OCS programmes (zero pellet loss in the production system), in addition to the ISCC Plus certificate for supply chain sustainability.
You can see all of the details of the EcoVadis programme, tested on over 90,000 companies and in more than 160 countries, on its website at www.ecovadis.com/es/ratings/ and find out about PLASTIGAUR's certifications and commitments at: www.plastigaur.com/innovacion-y-tecnologia/#certificaciones