Today, the 28th edition of the Basque Business and Vocational Training event was held, organised by Confebask, with Plastigaur receiving the Business and Vocational Training Award 2021.
The purpose of this event is to acknowledge the work of businesses and institutions with outstanding commitment to training. The evaluations of vocational training centres were taken into account when making this choice.
The aim is to highlight and showcase the momentum behind the Basque Country's drive to develop dual vocational training, a model whose standout feature is the commitment of Basque businesses to the training and employability of its young people.
We would like to thank Confebask for the award and the opportunity to shine the spotlight on good practices to improve training and competitiveness.
PLASTIGAUR, Innovation is flexible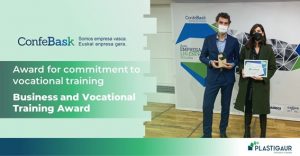 Plastigaur has a team with over 160 professionals who undergo continuous training, at the cutting edge of innovations and market trends and with a sustainability focus. If you would like to develop your professional career in Plastigaur, you can send us your CV in this section: https://www.plastigaur.com/en/work-with-us/
Award for commitment to vocational training
Business and Vocational Training Award