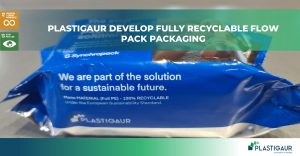 Plastigaur has joined forces with Gerosa Group and Synchropack to develop fully recyclable flow pack packaging.
Thanks to the strong commitment made by our three companies to develop sustainable packaging and work together on innovation and technical development, today we are presenting this mono-material (full PE) primary packaging. This material was developed with MDO technology which, using preheating, orientation, stabilisation and cooling processes, replaces multi-material structures, which are currently extremely difficult to recycle.
Plastigaur has invested heavily in technology, thus providing:
An ECO-FRIENDLY and sustainable solution. PE films that are laminated with MDO technology are designed to be fully recyclable.
An EFFECTIVE solution. It allows us to print out and produce packaging with an excellent moisture barrier.
It allows the product to be protected with the smallest possible environmental impact.
In the video you can watch the full product packaging process.
PLASTIGAUR Innovation is Flexible