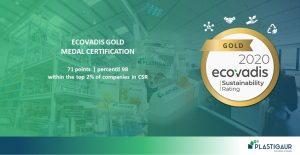 EcoVadis—the rating platform for assessing corporate social responsibility and sustainable procurement— has awarded PLASTIGAUR a Gold Medal for another consecutive year.
The Gipuzkoa-based flexible film and packaging company improved last year's score with a total of 71 points, three more than in 2019, and ranks within the top 2% of companies in CSR (98th percentile). The score reflects the quality of PLASTIGAUR's CSR management system in terms of the environment, workplace practices, fair business practices and sustainable procurement.
As part of its strategic commitment to sustainability, corporate social responsibility and providing outstanding customer service, PLASTIGAUR has participated in EcoVadis since 2013, aligning with the platform's objectives: to improve corporate environmental and social practices by harnessing the power of global supply chains.
This rating is coupled with the company's host of other certifications and accreditations in eco-design, circular economy, environment, quality and OCS (zero waste in the production system) and ISCC Plus (certification of sustainable supply chains) programmes.
You can find out more about the EcoVadis programme, implemented in over 65,000 companies in 160 countries, on the EcoVadis website https://ecovadis.com/ratings/, and all about PLASTIGAUR's certifications and commitments at www.plastigaur.com/innovacion-y-tecnologia/#certificaciones