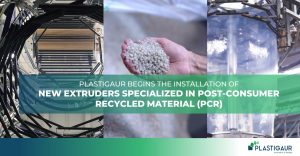 We are currently in the process of installing the first of the two new production lines that will respond to our customers' needs in terms of sustainable packaging. Roughly €7 million has been invested in the machinery as part of Plastigaur's Strategic Plan, a plan in which sustainability plays a central role.
The new machines will make it possible for us to grow our EKOGAUR sustainable range of products with new secondary packaging (shrink-wrapping material for shaping packs and banding systems) and post-consumer recycled (PCR) material.
We continue to advance toward our ultimate goal of achieving 100% recyclable products and products made from recycled material by innovating with our products and processes, working closely with suppliers and customers with production methods based on eco-design and the circular economy. This is evidence by our additional investment of over €700,000 in R&D.
With this first installation, slated to be fully operational by September, our production capacity will increase by 6,000 tonnes per year, doubling to 12,000 tonnes once the second extruder is installed.
Installation of the new extruders specialised in post-consumer recycled material has begun.
The new extruder will be up and running in September.