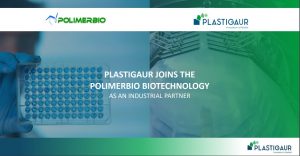 Plastigaur becomes a shareholder in the Basque biotechnology company POLIMERBIO, which specialises in developing biodegradable polymers for medical devices.
At PALSTIGUAR we are excited to bring the wide-ranging world of polymers and the complex medical-surgical sector together. We have put all our industrial experience, dating back over 30 years in the sector, into this breakthrough project in the world of medicine. We also believe bioabsorbable polymers have outstanding potential for development in both medical applications and industrial use, something a company such as PLASTIGAUR, which carries innovation in its DNA, sees as an inspiring challenge.
At PLASTIGAUR we work to promote the Circular Economy and defend plastic's contribution to sustainability, not only ensuring optimal conditions for food preservation and efficiency in packaging and transport, but also providing countless benefits in terms of health and safety.
Find out more about Polimerbio at its website: https://polimerbio.com/es/
Report published in the newspaper Noticias de Gipuzkoa: https://www.noticiasdegipuzkoa.eus/economia/2020/08/09/plastigaur-diversifica-actividad-entrada-sector/1047706.html