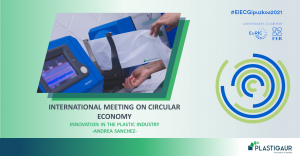 As part of the 3rd International Conference on the #CircularEconomy being organised by Gipuzkoa Provincial Council, PLASTIGAUR will be represented by Andrea Sánchez from the Sustainability and Environmental Department, who will be delivering a talk on #Innovation in the #plastics #industry.
The conference is taking place on 3, 4 and 5 February and will be held online.
The Conference aims to bring together national and global leaders in the area of the circular economy to discuss and reveal ways to move from strategy to action and build a way out of the crisis through a green response.
You can find all of the details and talks on this link: https://www.gipuzkoa.eus/documents/3767975/0/PROGRAMA.pdf/38dbed58-b7cb-fdf7-2eed-348b8e9199f2
For another year, we would like to thank the host institutions for citing PLASTIGAUR as an example of best practices in the circular economy, something which our organisation believes is essential.
PLASTIGAUR, Innovation is flexible.