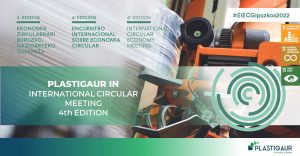 For the third consecutive year, Plastigaur is participating in the International Conference on the Circular Economy. On this occasion, Luis Artola, our Managing Director, will be taking part in the section on "Challenges and opportunities in the new plastics economy", together with representatives from organisations and bodies such as Grupo Galloo, EURIC, Jolas and Plastic Energy.
The International Conference on the Circular Economy is a platform that was created in 2019 to promote the green economy, generate synergies and partnerships, and bring about this transformation towards a clean and circular economy in a fair manner, including all stakeholders, businesses and citizens and leaving nobody behind in this paradigm shift.
This fourth edition, aimed at all spheres and sections of society, the economy and institutions, will focus on driving forward the acceleration of the future of sustainability and exploring the steps being taken in Europe, Spain and locally in relation to some of the key circular economy strategies, i.e. the new plastics economy and the bioeconomy, among others. It will also focus on the success stories in the Basque business sector and the opportunities that could be created in the region through entrepreneurship and investment in green businesses.
You can find further details and sign up for the conference on this link: https://www.gipuzkoa.eus/es/web/ingurumena/-/ekonomia-zirkularrari-buruzko-nazioarteko-iv-topaketa
PLASTIGAUR, Innovation is flexible