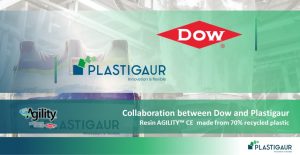 Dow, in partnership with Plastigaur, has announced the first large-scale commercial use of its AGILITY™ CE resin made with 70% recycled plastic. This resin is being used to develop a range of collation shrink film, typically used in the transportation of cans or PET bottles, giving plastics a second life and advancing a circular economy for plastics.
The AGILITY™ CE resin is based on low-density polyethylene (LDPE) into which post-consumer recycled (PCR) material from shrink film is incorporated without sacrificing material quality and functionality in the final application.
Advantages
25% reduction of the carbon footprint (with the use of Plastigaur's 50% PCR film).
11% less CO2 by reducing film thickness from 45 to 40 microns.
Reduction of the overall environmental impact by 32%.
Dow, for its part, notes that "by working in close partnership with Plastigaur, we've been able to accelerate our innovative PCR product offering, demonstrating a commercially viable solution that uses high-quality packaging made from recycled content".
Plastigaur thus collaborates with Dow, a leading international chemical company with a broad portfolio of businesses, including plastics products, industry and infrastructure, and with which it shares an ambition for innovation and sustainability as a way to create value for customers and promote a circular economy for plastics.
You can read the full story on the DOW website:
https://es.dow.com/content/dam/dcc/documents/es-es/market-product-information/768-462-05-agility-ce-with-70-recycled-plastic.pdf
PLASTIGAUR, Innovation is flexible.