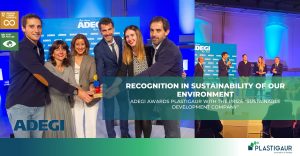 PLASTIGAUR has been awarded by ADEGI in the 1st Edition of the ADEGI Award to the Sustainable Development company, within the framework of its General Assembly.
This recognition rewards the company's work in its commitment to a change of economic model related to sustainability in its 3 features: economic, social, and environmental.
The award has been received by the Director General Luis Artola, together with Andrea Sanchez as Responsible for Sustainability and Mikel Atxega, previous member of the area and currently Responsible for Continuous Improvement.
When Luis collected the award, he thanked the enormous effort made by all the members of the company to adapt to this new scenario and the Gipuzkoa business Association for making visible the work of Plastigaur.
Plastigaur, Innovation is Flexible.